E-book Distribution | Audio-book Distribution
Printed Book Distribution
Online Distribution
Authors who opt for online distribution can have their books listed on our online book store, www.thedogearsbookshop.com and on our channel partners within India, and internationally.
In India, the books are sold on The Dogears Bookshop, Amazon, Flipkart, Sapna Online, and BooksWagon. Of these, The Dogears Bookshop ships books globally. Internationally, the book is sold on various platforms (see the full list below this paragraph). In both cases, online distribution is carried out only on POD basis i.e. your book will be printed and shipped on order.
Offline (Physical) Distribution
We also offer the option of having your books distributed to book stores around the country. To avail of this option, you must provide us with up to 4 review copies. After reviewing, the retailer will request a certain number of copies, the cost of printing of which will be borne by you. You must also pay for the shipping of these books to the central warehouse from where these books are then distributed to book stores across the country. These retailers demand a commission of up to 65% off the MRP for their service. At 12-month intervals, an author may ask for a status of the books. At these intervals, the author can also request that his/her books be withdrawn from these retail channels, if so desired.
Please note that authors will not receive a list of the book stores in which the books are placed. It is important to note that books are placed in book stores at the discretion of the distributor.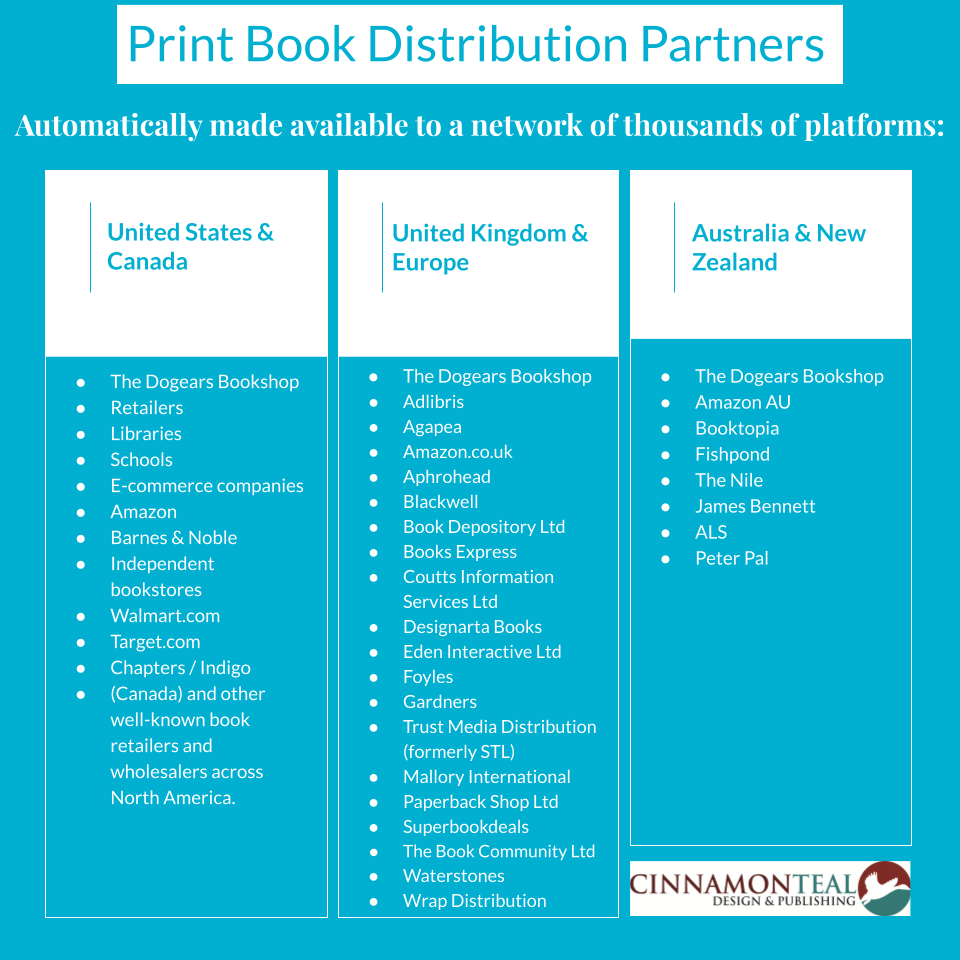 E-Book Distribution
Your e-books will be available for sale on The Dogears Bookshop website. In addition, they can be made available on all of the following platforms: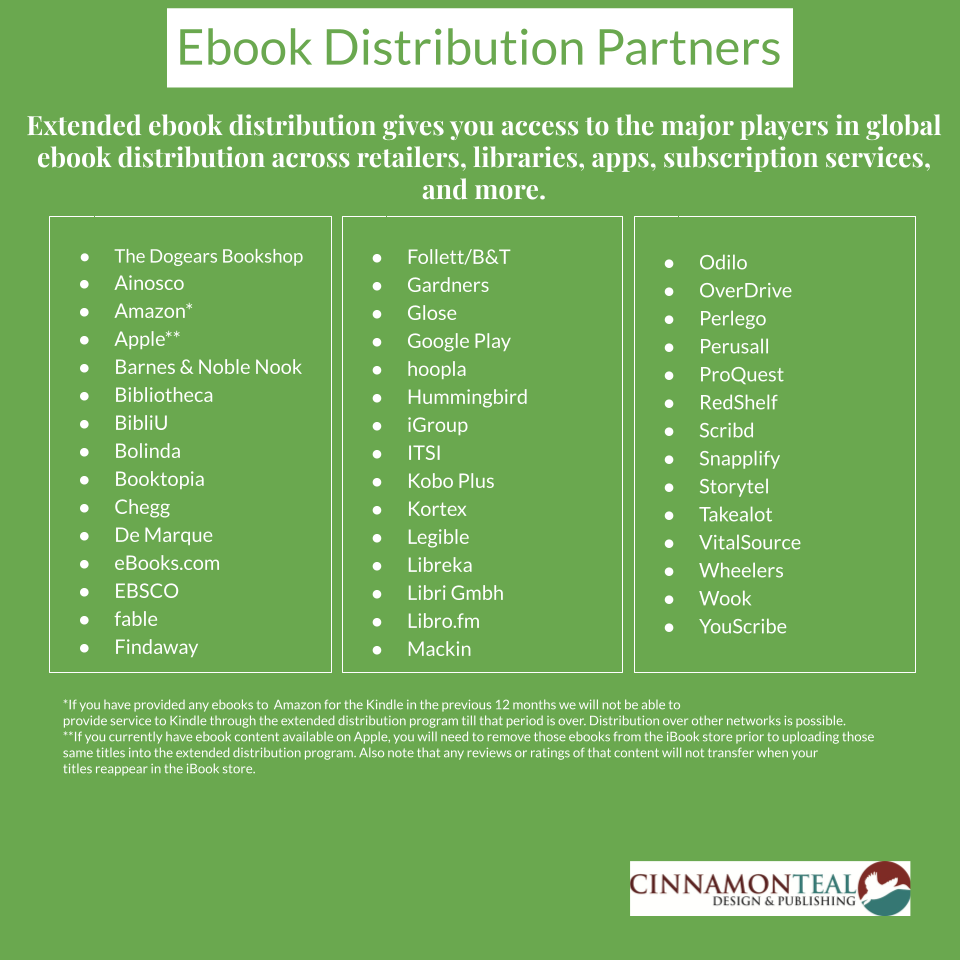 The preferred format on most of these platforms is epub.
Audio-Book Distribution
Our audio-book distribution platforms include The Dogears Bookshop website in addition to all of the following platforms: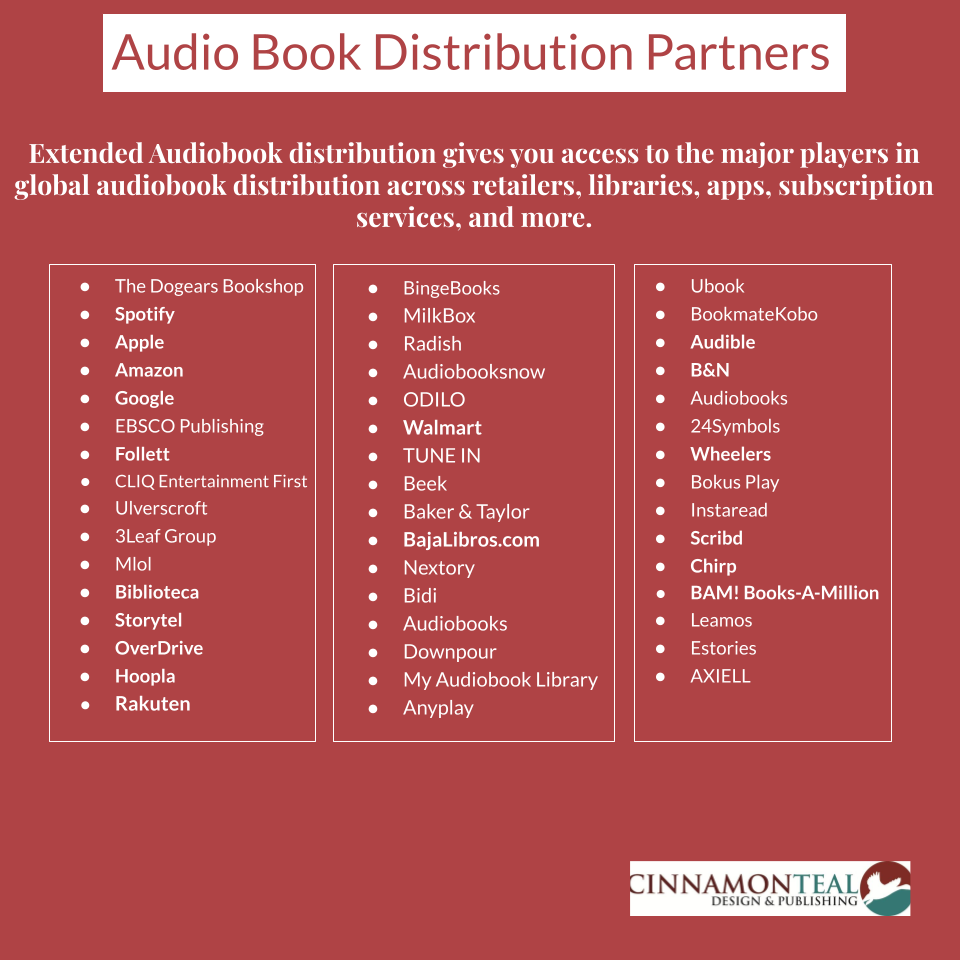 In all of the above cases, the platform will decide whether or not your content adheres to their guidelines, and accordingly willl list your book or choose not to. While CinnamonTeal Publishing will deliver your book to every vendor, it does not guarantee that the books will be listed by that platform.