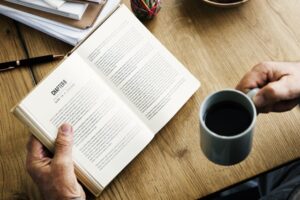 We are driven by our passion for the book. We ourselves spend almost all our free time first choosing a good book and then reading it, because we believe that, to quote Stephen King, "books are a uniquely portable magic." This passion also defines what we do. The original idea behind CinnamonTeal hasn't quite changed since we began providing self-publishing services way back in 2007 (and practically introduced "managed" self-publishing in India) – we remain committed to partnering with authors and publishing good books. Books that are splendid to behold and a pleasure to read.
We believe that a book should express what the author wishes to say in a coherent and lucid manner that can be understood by the reader. We are also of the view that the text should be presented properly – nicely formatted, and with a good cover. We believe in the ability of a book to transport the reader to some place tranquil as also in its ability to challenge the reader with the questions it poses. A book that delivers on these counts would have served its purpose and enlightened its reader. At CinnamonTeal Publishing, we are committed to the development of such a book.
We provide self-publishing services because we believe that the author should be invested in the publishing process. And we believe that the debate should not be about self-publishing versus traditional publishing, rather about good publishing versus bad. In most Indian languages, the best books were self-published by the authors. Many authors, like Vikram Seth, got their first break through Writers' Workshop, probably the pioneer of providing self-publishing services. Our goal is to provide good books, through justifiable means.
Any author we work with, therefore, can expect us to give each book our best. We will employ the best resources at our disposal, thrash many drafts before we arrive at the best design we can muster, and do everything within our means to ensure that the first copy you receive is indeed the best that can be. We'd rather not be tied down by deadlines and 'ASAP's, because a good book, like good wine, takes time to develop. We pride ourselves on the quality of each book we produce, not on the numbers we produce each year. Our goal (that of the author and CinnamonTeal) is to develop the best book possible and the path to that goal should alone dictate the progress of the book. Many times we have been rebuked for not 'sticking to the time table'. In such cases, we have always waited for the book to finish before we respond. In fact, the finished book is our only response.
Having worked hard to get the manuscript completed, we are sure you won't seek shortcuts while the book is being completed. We value the effort you have put in in writing the manuscript, fully aware that you will want a good book to come out of such effort. We know that anything less than perfect will not do, and we will go the length to help you achieve that level of perfection. We will not leave you at the mercy of automated processes, 'do-it-yourself' gimmickry or ineffective marketing solutions. Nor will we suggest any bells and whistles to 'spice up your book'. In book publishing, less is more, and it will help your book immensely if we just stuck to the basics. In the end you will have a book that you will always be proud of.[/vc_column_text][/vc_column][/vc_row]