Born and brought up on the outskirts of the bustling city of Mumbai, Aniket More was accustomed to a fast-paced lifestyle. Keeping up with his hectic schedule and chasing the goals that every Indian kid is taught to chase.
As life progressed, he witnessed the varying moods of the world and its inhabitants. Whilst facing the biggest dilemmas of his life, Aniket found comfort in Edgar Allan Poe which also developed in him his passion for macabre.
He found that his thoughts fit in best in the dark world. His imagination thrives on the flip side of society and savages on the raw obscurity surrounding the universe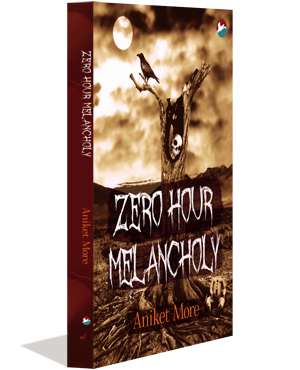 Zero Hour Melancholy unravels sentiments that have, for aeons, been contained in the deepest recesses of the human mind. Inspired by the author's musings and fears during dark lonely nights, this anthology sheds light on a relatively obscure aspect of the human persona. The assortment of poems, stories and letters reflect the myriad hidden emotions, fears and desires of the human mind.

More info →