Steve Anderson was born in Scotland, in the 60's. He doesn't know where, when, why or how he will die. He calls the bit in between: Life. He is still living that. No doubt, it is, and will continue to unfold howsoever it is meant to be. Steve does believe in beauty, love and truth. He is one of those people who believe in the magic, wonder in the power of the Cosmos and its great eternal truth.
Once again, Bar Eclipse, Calangute, provides the setting for another of Steve's masterful narratives.
Following the success of Steve's debut novel, Are You?, the journey continues in the first book of the January Girl series.
A chance encounter leads to two strangers, Steve and Elina, deciding to go on a little trip, to explore the ancient ruined city of Hampi. This, however, would only be the start of their journey; a journey that would very quickly – for Steve, anyway – pose more questions than answers.
As the journey proceeds and Steve tries to unlock the door to Elina's world, Elina becomes more evasive and mysterious in her behaviour, further arousing Steve's intrigue. Who is this mysterious girl? Would she reveal the secrets that she seemed to carry? Or was it a burden she bore alone?
There was only one way to find out.

More info →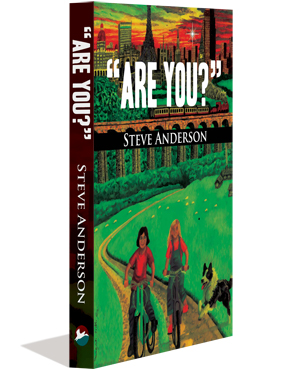 Right from the moment that they first met; Steve and Lorraine shared a special magic. A magic that stayed with them as they journeyed life's road, attempting to satisfy their childish curiosities, and learning many of life's invaluable lessons along the way. As they grow older and move away from their hometown, their worlds separate and they lose touch, but the uncanny telepathic connection endures. Thirty years later, they are re-united. Their 'forever and ever' bonds forged in childhood re-awakened. Do they re-discover their childhood magic? Does 'forever and ever' really exist? Steve's masterful storytelling of a tale of love spanning four decades will have you weeping for the joy and tragedy of it all. And hopefully make you wonder and ask – Are you?

More info →