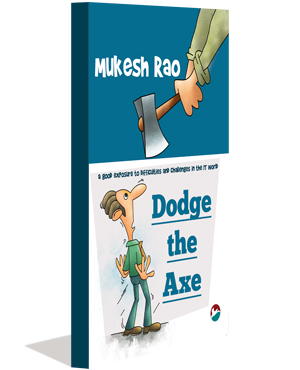 Through this book I hope to connect to the intended audience and caution them about the blunder of remaining in comfort zones especially when the economic and business environment around them is under churn. I came across a handful of IT folks who were axed. Some were prepared, they saw it coming.
About the Book
Some of them dodged it and left for better opportunities before the axe fell, others were not so lucky but at least they were prepared. However, many others were caught unawares and it is these people and their experience that I gathered and came out with this fiction. The feelings expressed here are real but the characters are fictitious. I factored in my experience too. The experience I went through during those tense days when I saw it coming and decided to move on.
About the Author
I have a little more than 20 years of experience in the IT sector. I started my career in software development in 1988 when I got into the role of a developer for a nondescript company. I was fired from that job within a few months when I lost the source code that I had painstakingly built for a publishing house. This was my first hand experience with job loss. It took me another twenty years to write about it. Fortunately, that was the only time I got the boot. Rising through the ranks (coder to a consultant) gave me a good exposure to the difficulties and challenges that the various roles throw at you in real life.
70p/Paperback/5.83×8.27″