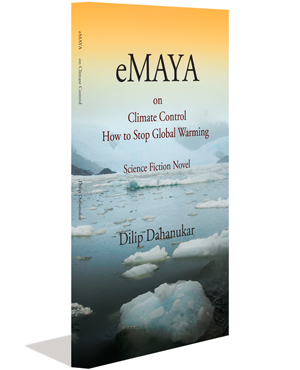 eMAYA on climate Control Science Fiction Novel
About the Book
eMAYA on climate Control Science Fiction Novel
Can we stop Global Warming?
Can we do without Nuclear Power?
Are we going to face famine?
Are we all doomed?
You will find the answer in 'eMaya.'
A computer whiz kid created Bitsy, an Artificial Intelligence programto make a report on global warming. She copied her reasoning and comprehension ability to computer Guhu who managed the search engine and to computer Miki who ran the encyclopedia on the internet. These three intelligent byte-brains brought out the myths and the truths of environment changs and climate control by interacting amongst them. eMaya was the netname of Bitsy who summarized the discussions and wrote out emails on various aspects of climate control.
Though eMaya is science fiction, the facts about the earth are real and the conclusions are valid. The book explains difficult concepts of environment and climate change in very simple and lucid way. It answers questions about global warming which you are afraid to ask.
126p/Paperback