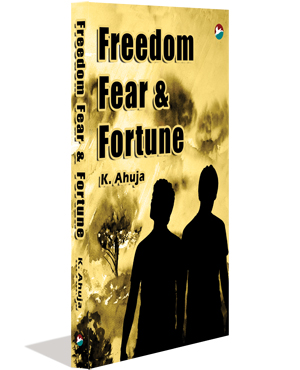 The book is a historical novel set in India between 1900 - 1940.
About the Book
Freedom, Fear, and Fortune is a historical novel set in India between 1900 – 1940. It traces the lives of two seventeen year old boys, Mohan Rai and Prashant Singh, who involuntarily get caught in the fervour of the prevailing freedom movement when there are riots at Khalsa College, Amritsar. As a result destiny parts these friends, and takes them in opposite directions. They meet again – the one after many trials and tribulations, the other having soared high – but both have changed.
Readers' Reviews of Freedom, Fear and Fortune:
A masterful story of human courage and failing set in a very dramatic period of modern Indian history. You weave together individual fates and fortunes with momentous political events in a superb way, both touching the heart and giving deep insights. I truly admire the breadth of your knowledge, the power of your imagination and your consummate literary skills.
– Lennart Hellspång, Professor, Södertörn University. Huddinge, Sweden
Apart from the well researched historical background which the novel is based on, the story was great. I especially enjoyed the flow of language which allowed me to read the book without many breaks. I congratulate you Kiran and encourage you to write the next novel
– Radmon Sukhia, Board Member, Sweden-India Business Council.
Your book gave the same kind of vibes that I got from the movie Life of Pi as well as Slumdog Millionaire even though the three stories differ greatly.
– Abu-alata Thaer, Law Student, Stockholm University, Sweden
The tone of the novel is honest and unsentimental and this is exactly what conveys the power and poignancy of the story, or rather stories, of individuals and families caught up in the maelstrom of politics, history and race. The tiny, telling details of everyday life are revealed with clarity and economy of language. Despite the injustices inflicted upon them, the characters reveal warmth, resilience and true dignity of spirit. This novel makes a wonderful counterpoint to A passage to India: we see and experience from the inside.
-Marjorie Carleberg. Linköpings University. Sweden.
218p/Paperback/5.83×8.27″
ISBN (EPUB) : 978-93-81542-26-2
ISBN (EPUB) : 978-93-81542-80-4
9789381542804