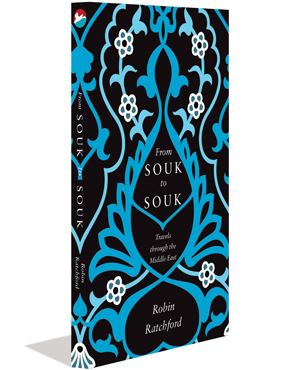 "Wonderful... a delightful contrast to the gloomy picture of the region usually conveyed by today's newspapers and television."
Stanley Johnson
About the Book
"A gem of a book. Alternating between the bazaars and the bizarre, it is informative and entertaining in the best tradition of British travel Writing."
James Wilcox, Untamed Borders
"Wonderful… a delightful contrast to the gloomy picture of the region usually conveyed by today's newspapers and television."
Stanley Johnson
Breaking the rules of the travelogue, From Souk to Souk takes the challenges the Middle East faces and gives them a human perspective.
From the historic bazaar of Aleppo in Syria to the street markets of Baghdad, this captivating account combines atmospheric descriptions and a critique both of Middle Eastern societies and Western perceptions of them, offering a personal insight into the Middle East in a way which is accessible to all.
About the Author
Robin Ratchford was born in the UK. He thinks it was collecting colourful stamps as a child that first sparked his interest in foreign lands and cultures. He has lived in six different countries and visited more than a hundred others and their territories. Robin has a background in international affairs, and travel, adventure and discovery are central themes in his life. He is currently based in Belgium, where he lives with his dog Mortimer.
224p/Paperback/5 x 8″