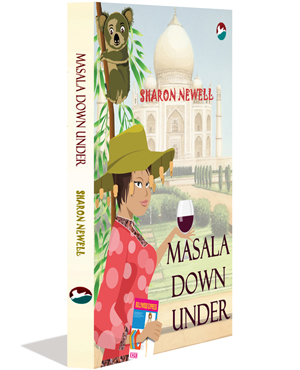 Obsession!! What is it and why do ordinary citizens, young and old, feel this way for a total stranger?
About the Book
Obsession!! What is it and why do ordinary citizens, young and old, feel this way for a total stranger?
Masala Down Under is a hen lit comedy about a middle-aged woman who suffers 'fan obsession' that takes her on an irresponsible but hilarious journey, both inward and out, to meet the film star of her obsession.
Celia Kelly, a happily married teacher and mother living in Sydney, Australia sees a Bollywood film and falls madly in love with its superstar hero, the actor Tariq Ali Khan. Thus begins a journey of personal discovery narrated by Celia in her utterly original mix of cheeky Aussie wit seasoned with Kolkata-born Indian spice.
To begin with, Celia's husband, Wayne, is amused and tolerant of her newfound passion. But as time wears on, he along with their son Jesse and Celia's trio of best friends all worry that she's lost her mind. Celia is saddened to discover that society is so intolerant when women of a certain age express unconventional passions even as she pursues her internationally famous star with tireless zeal.
Her chase takes her from a film shoot in Sydney to the gates of his mansion in Bombay and involves soulful taxi-drivers, South Indian filmstars and a visit back to her birthplace in Kolkata. Sadly, however, she returns to Australia with her quest unfulfilled. Racial tensions seethe in her beloved home town and she finds herself drifting towards a full blown midlife crisis that not even her handsome superstar can save her from.
But a healing visit to Uluru (Ayers Rock to the rest of us) in the company of Wayne and an unscheduled dingo bring the novel to a very satisfying happy ending.
About the Author
Sharon Newell was born in Calcutta, India in 1953. When she was 17, she left India to live in Australia, and then New Zealand, before returning to Australia. Sharon now lives in Sydney, is married and has one son. Sharon has visited India each year for the past seven years for an Indian rendezvous.
EPUB
ISBN (MOBI) : 978–93–81542–94–1
ISBN (PDF) : 978–93–80151–72–4