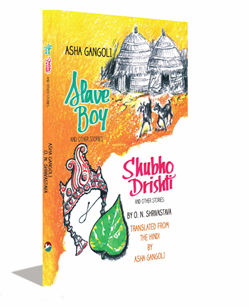 A child from the desert lands of Rajputana reaches Calcutta. He remembers nothing of his past and has no inkling of what the future holds. A tree narrates a patch of Delhi's history. A girl loses her innocence to a tantric. A boy finds himself about to marry a girl he never loved.
A stray dog invades and captures the heart and hearth of an unwilling 'parent'. Wild mongooses go on a rampage in an army household. A middle aged woman hears Vedic chantings in the croaking of frogs. A crane gives birth to a child.
These and many other stories, long and short, make up the pages of this book - which is really two books. A collection of anecdotes and stories, some approximated from life, others imagined, they are the brain children of two authors: Asha Gangoli, a "retired" army wife and O.N. Shrivastava, a retired police officer and former Governor of Nagaland and Manipur. Together they conjure up a motley of many moods and backdrops, sometimes sprightly, sometimes sad. But always full of a love for life and for nature.

About the Book
A child from the desert lands of Rajputana reaches Calcutta. He remembers nothing of his past and has no inkling of what the future holds. A tree narrates a patch of Delhi's history. A girl loses her innocence to a tantric. A boy finds himself about to marry a girl he never loved. A stray dog invades and captures the heart and hearth of an unwilling 'parent'. Wild mongooses go on a rampage in an army household. A middle aged woman hears Vedic chantings in the croaking of frogs. A crane gives birth to a child. These and many other stories, long and short, make up the pages of this book – which is really two books. A collection of anecdotes and stories, some approximated from life, others imagined, they are the brain children of two authors: Asha Gangoli, a "retired" army wife and O.N. Shrivastava, a retired police officer and former Governor of Nagaland and Manipur. Together they conjure up a motley of many moods and backdrops, sometimes sprightly, sometimes sad. But always full of a love for life and for nature. About the Author Asha Gangoli :- Born in Mangalore, raised and educated in Calcutta (now Kolkata) and in Bombay (now Mumbai), Asha Gangoli has spent a big chunk of her life traversing the country as an army wife, but was never just that. She has worked variously as a personal secretary in a publishing concern, as a teacher in a pre-primary class, and more importantly as a voluntary teacher of adult women, making at least two score women literate in various places, particularly in the slums of Delhi. She lives in Pune with her husband who has been her greatest strength in her every endeavor. O.N.Shrivastava :- Worked with the Indian Police Service for 35 years, including 20 years with the Intelligence Bureau. He spent the last eighteen years in the Northeastern states, after which he was appointed Governor of Manipur and Nagaland, from where he eventually retired. He has been decorated many times by the IPS and IB and was awarded the Padma Shri in 1990, for outstanding work in the Northeast. After retirement he took to writing. He has published five anthologies of short and long stories, of which four are in Hindi and one in English, and continues to write. He lives with his charming Naga wife Nini in Bhopal.
224p/Paperback/5.5×8.5″