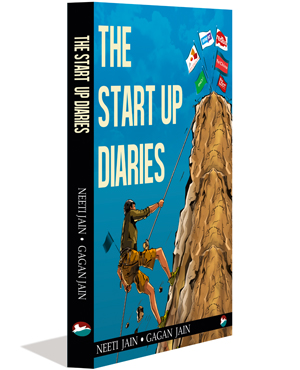 What does it take to be an entrepreneur? Are there any guiding rules to be one? Are entrepreneurs as charismatic and intellectual as their larger-than-life image seems to be? The Start Up Diaries covers the exhaustive journey of six young entrepreneurs from diverse backgrounds, whose achievements by any yardstick make the most inspiring stories for today's generation.

About the Book
The book gives the reader a realistic picture of how new-age startups are being built in India. It has covered every significant incident in each entrepreneur's life – from conceiving the idea to executing it, from committing mistakes to achieving laurels, from being funded to incurring losses, from approaching the first customer to building the brand. It also throws light on the prevailing ecosystem that exists in this country to support and promote entrepreneurship.
While presenting every aspect of a start up in detail, this book does not seek to glorify entrepreneurs, but rather seeks to emphasize that entrepreneurs are not necessarily super heroes or gifted individuals; neither do they belong to affluent financial backgrounds nor do they have extraordinary qualifications. The journeys that this book takes you through are those of people who are passionate, resilient and persistent and have created businesses with an eye on the future.
About the Authors
Neeti Jain is Founder and Creative Director of Rangrage.in, a brand of hand-painted apparels and home decor. She received her M.A. in Economics from Rajasthan University along with a Post Graduate Diploma in Brand Management from ICFAI and a Post Graduate Diploma in Marketing Management. She has extensive experience of working in advertising, media and consultancy. Neeti has been visiting lecturer to various business schools in India and Oman. Her interests include painting and social work. Currently she resides in Indore with her one-year-old daughter and husband. She can be contacted at
[email protected]
.
Gagan Jain is a seasoned professional with many years of experience in media, retail and e-commerce within India and abroad. He is associated with madinindia.com, a niche e-commerce startup and is also a founder of Rangrage.in, a designer label for hand-painted merchandise. He was among the initial members of Moneysaver (now Snapdeal) when it laid its foundation. Gagan holds a Post Graduate Diploma in Marketing Management and his interests include teaching. He has been actively conducting workshops for business bodies like PHDCCI and has been a visiting lecturer to various reputed B-schools in India and Oman. He was earlier residing in Oman, where he was the country head for a fashion brand. He currently lives in Indore with his daughter and wife. He can be contacted at
[email protected]
188p/Paperback/5×8″
ISBN (EPUB) : 978–93–83175–35–2
ISBN (MOBI) : 978–93–83175–36–9
ISBN (PDF) : 978–93–83175–37–6