José Venâncio Machado was born in Margao and lived in Colvá till November 1960, when he won a scholarship to study in Portugal. He studied Agronomy at the Technical University of Lisbon (TUL), specializing in Agro-Industries, and afterwards in Refrigeration Engineering and Applications at the Instituto del Frio, Madrid, Spain.
After the obligatory military service – fulfilled in the Portuguese Navy, as 2nd Lieutenant RN and commanding officer of a small ship – he pursued activities in agronomic research, development banking and university teaching. Following a tenure in the civil service in Portugal, including as invited Auxiliary Professor at the Faculty of Agronomy (TUL), he served at the Food and Agriculture Organization of the United Nations (FAO) successively as an international post-harvest expert, Senior Officer and FAO Representative a.i. in Guatemala. He is widely traveled and has lived and served in Mozambique, Portugal, Ghana, Rome, Guatemala and Panama.
José Machado has authored several technical articles in his areas of specialization, besides a book entitled "Um goano adinkra", a collection of essays in Portuguese combining three ingredients as its leitmotiv: Memories of Goa, Lateral Thinking and Adinkra Symbolism (from West Africa).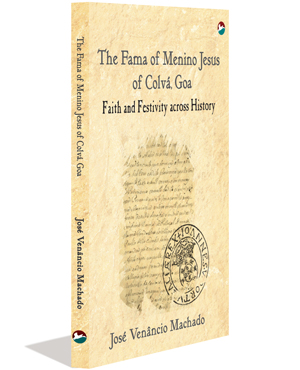 The Fama is a poetic deity that broadcasts good news. This allegoric figure has been used by the Catholic Church to announce the beginning of a period of special prayers to the patron-saint or patroness of the parish, which culminates in the Feast. The Fama is an event of minor relevance in the liturgical calendar, except in Colvá, Goa.

More info →