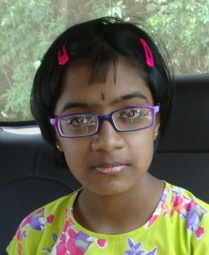 This is Shruti's first book, written when she was 10, as a student in class IV of the Hindu Senior Secondary School in Chennai.
She started writing stories when she was six years old, first on paper and now on the laptop. She spends at least an hour, everyday, typing stories, unless she is suffering from "the writer's block".
Her keen sense of observation of the current events of the day also prompted her to design a newspaper at the time, covering the current topic of interest, sports, general information and entertainment. Her other interests include learning ballet, watching cricket matches with her father, listening to film songs, doodling pictures (some for her stories) and playing the keyboard.