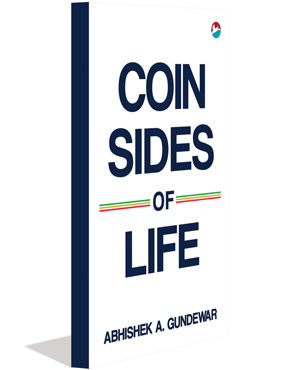 Can life ever be simple? No, the journey of our lives is complicated. Sometimes, we complicate it further, react to these complexities, and end up hurting ourselves, and others. However, we can simplify our complex life, and yes, we can do it ourselves. We do not need to look outside for solutions.

Buy Paperback
About the Book
Coin Sides of Life is an incredibly encouraging fable that teaches us how to introduce positivity into our lives and simplify it by taking stock of our own situations and choices. With the help of a coin, the author helps us realise how uncomplicated life can really be. His 'Coin Theory' helps you realise your responsibilities and paves the way to achieve your dreams.
About the Author
Abhishek is 27 years old, and works with a multi-national company in Mumbai. Educated at St. Xavier's Lake View High School, Nagpur, he graduated from the G. S. College of Commerce & Economics, Nagpur. Currently, Abhishek has completed his Management Programme for Executives from Narsee Monjee Institute of Management Studies (NMIMS), Mumbai.
Abhishek's family remains the constant inspiration behind his writing. Coin Sides of Life is his debut book in the Inspirational Fiction genre, and is aimed at creating a positive outlook towards life.
You can contact the author at:
www.abhishekgundewar.com
62p/Paperback/4.5×7″