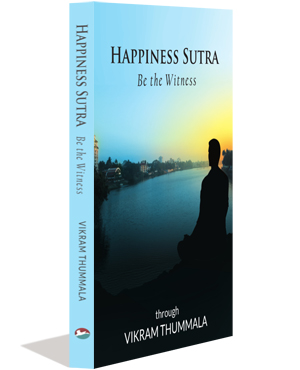 This is the handbook of happiness you've been waiting for...
About the Book
This is the handbook of happiness you've been waiting for…
A young IT professional is prevented from leaping into a river by a police officer. He's drawn into a conversation that shows him the happiness he yearns for is within him, not in the people or things around him. This dialogue serves as a practical and easy-to-follow guide on how to take control of your own life. It does not advocate any physically challenging or intellectually incomprehensible practices. It only calls for realising the value of cultivating introspection and awareness in a way that's practical to all.
About the Author
Born and educated in Hyderabad and the Indian Institute of Technology (IIT) Madras, Vikram joined the Indian Police Service (IPS) in 1998. After stints in the Kerala police and the Central Bureau of investigations (CBI), he was the managing director of the Kerala State Co-operative Marketing Federation. Now a deputy inspector general (DIG) at the CISF's National Industrial Security Academy, Hyderabad, his career has run parallel with an internal quest to discover a deeper meaning to the world of experience beyond the ephemeral. While willing to share both the process and practice for attaining inner peace and contentment, he continues his search.
178p/Paperback/5×8″
ISBN (EPUB) : 978-93-84129-22-4
ISBN (MOBI) : 978-93-84129-74-3
ISBN (PDF) : 978-93-84129-75-0